I am looking for an update on my ticket I opened about uploading voicemail greetings. It has been several weeks and I still do not have any update, nor does the feature seem to work as expected. When I place a file in the UPLOAD field, it never gives me the option to save and continue. There was a ticket opened, but apparently there is no easy way for me to review the ticket or see the status.
Can you let me know the next step on using this feature? you access the feature through the MYTMOBILE portal by clicking on the line, then CHECK VOICEMAIL, then SETTINGS, then CUSTOM GREETINGS
Best answer by tmo_marissa 28 June 2018, 18:58
Hey, @magenta4793591​! I tried to walk through these steps to understand better where you're bumping into trouble. I get to this section:

and I click the blue link that says +Add Custom Greeting.
Then I get this pop-up: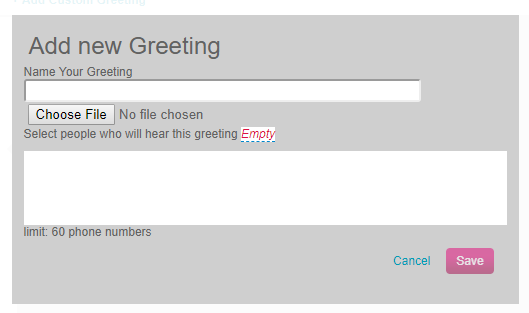 and so I click Choose File.
I don't actually have any MP3 files on my work laptop, so I had to stop there -- but can I ask, once you select an MP3 file from your computer/laptop, are you not seeing the magenta Save button in the bottom right corner? Or do you click it, but then nothing happens?

Lastly, do you have the ticket number you received? While we aren't able to file or escalate tickets from this public user forum, we can check status so I'm happy to take a look at that for you if you like!
View original