Dear Friends,
I just battled for days (and now overcame!) a login loop issue while trying to log into My T-Mobile.
I post this here on the off chance that it will help some other poor, confused soul, as I was mere minutes ago—and on the so-remote-it-makes-Pluto-look-near chance that it will actually get fixed.
The problem is this...
What appears to happen is that if you try to login with your phone number, and if T-Mobile thinks that you need to reset your password, there is absolutely no way to login to your account. You can't even use the mobile app. (You also can't login to contact support, because that requires logging in to My T-Mobile, and they have no email address you can contact.) (To their credit, I could have called them and attempted the verbal acrobatics of explaining this over the phone to some poor underpaid soul in a call center.)
A story by (riveting) pictures:
First, you try to login to My T-Mobile. It asks you to reset your password. (Side note, the password reset page is completely bizarre, as the checks to see whether your password passes the criteria seem to break in odd and confusing ways; a long password somehow immediately fails all of the other criteria? Anyway, moving on.) After this, you are treated to a nice infinite loop:
After trying this enough times, it may eventually just fail with the following error page: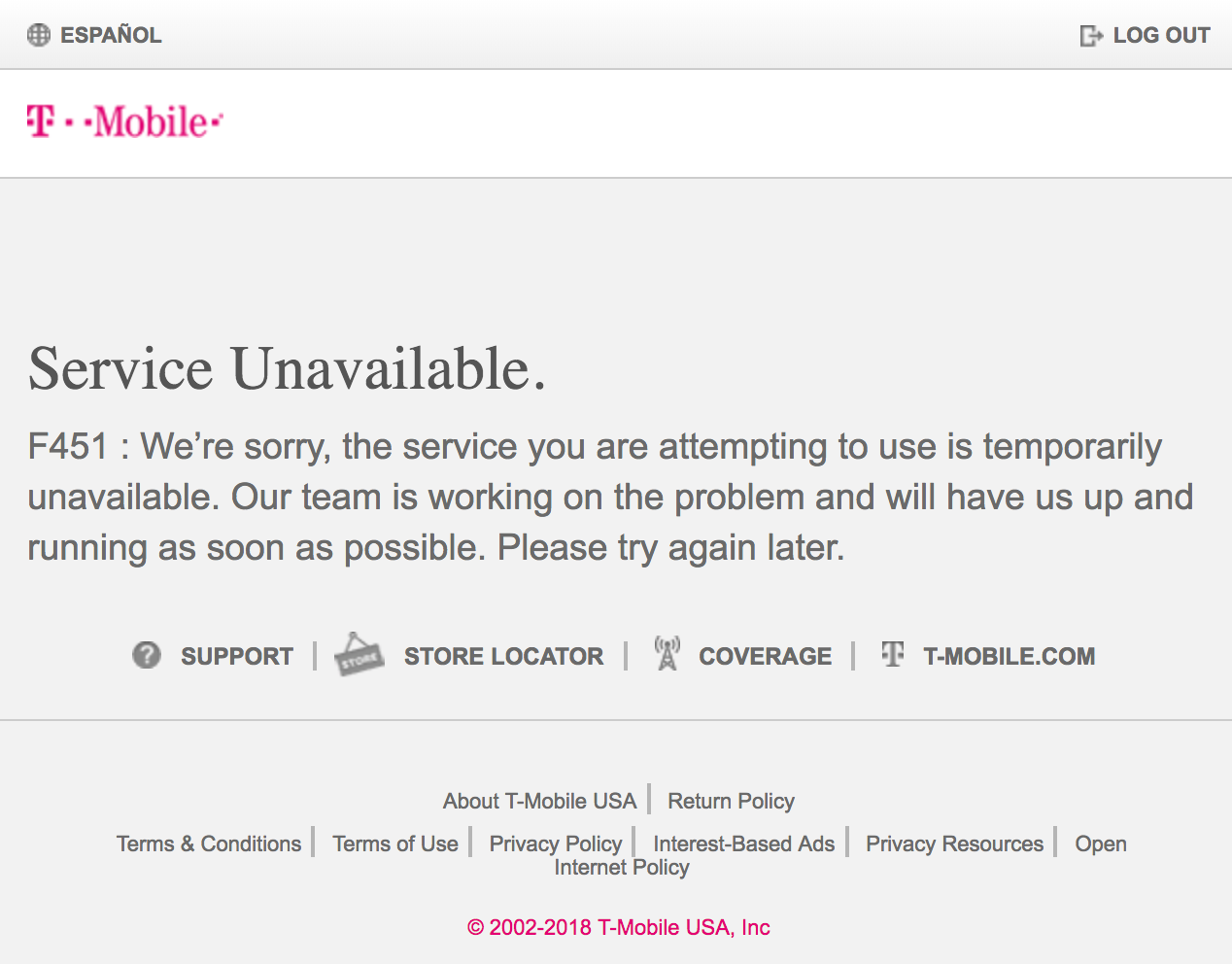 (Repeating the above multiple times with different web browsers bears no fruit.)
If you try to, say, download the T-Mobile app with your iPhone, you'll be treated to the same process, except instead of a grey screen infinite looping, you get to see the pink app do that. It, too, will eventually give up after several attempts and show you a different error screen: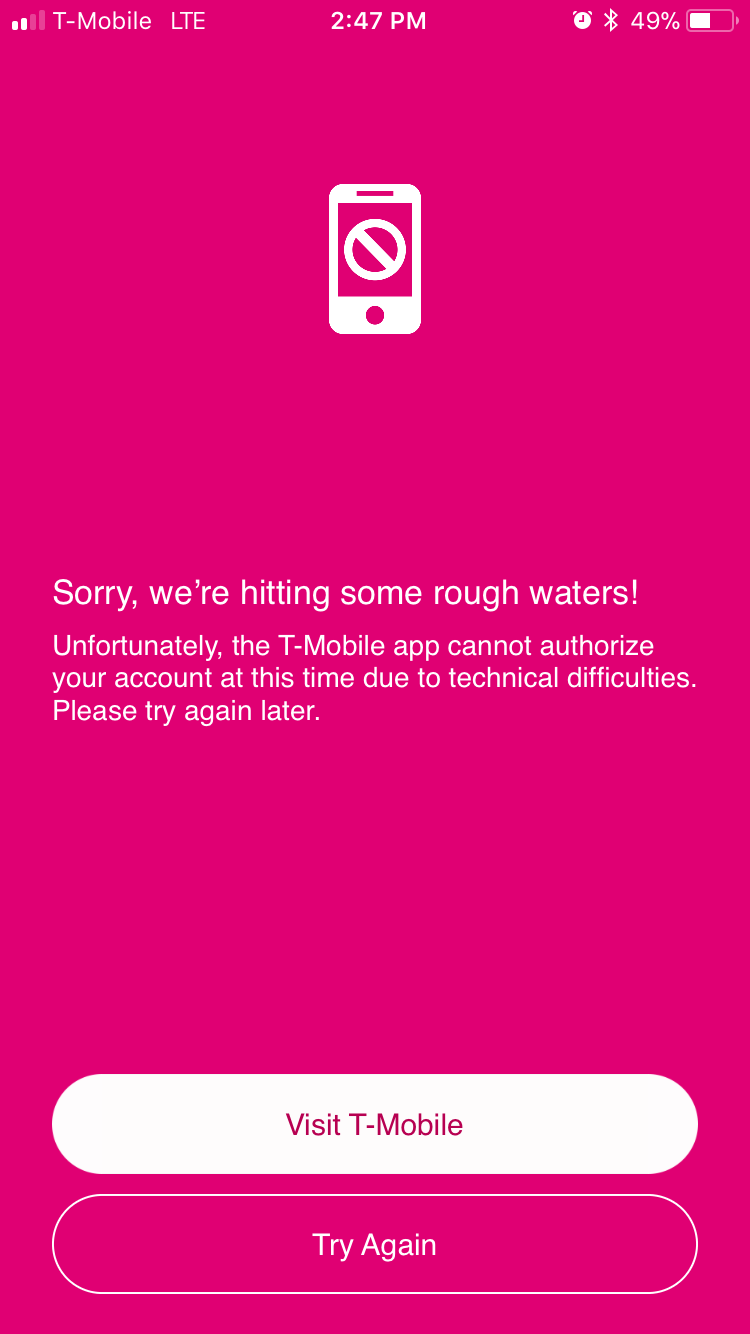 (Pause here for dramatic effect where you actually believe the error messages and that someone might fix the problem over the course of a few days.)
Now, you might think, why don't you just reset your password upfront? Shortcut the whole process and get to the point, right? Yeah, let's try that: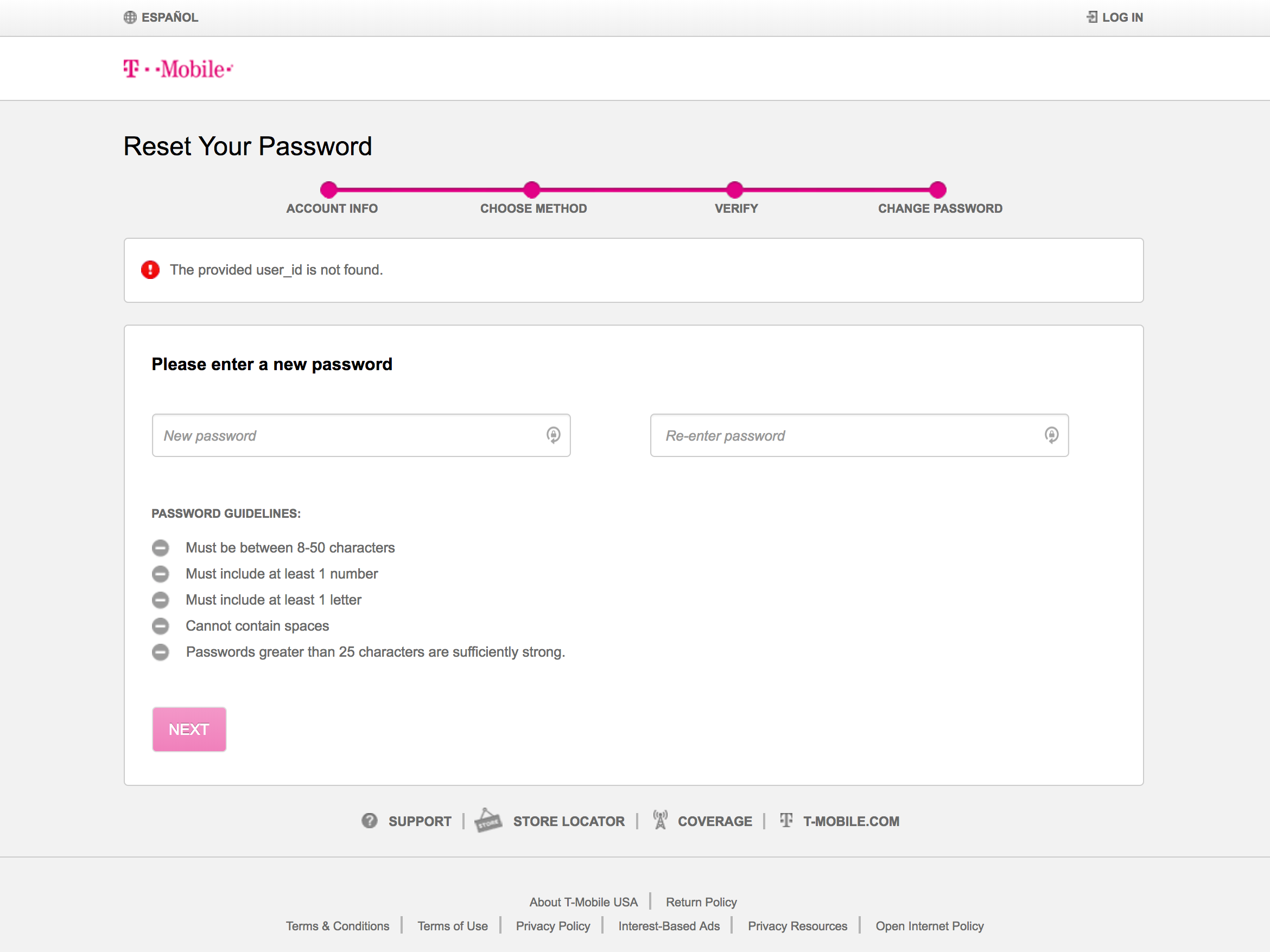 A-ha! Everything still fails, but you (sometimes) get a mysterious error message: "The provided user_id is not found." This is, of course, malarkey, because you've already provided your phone number and it's found your account and texted you a confirmation code and everything. But it leads us to believe... maybe the phone number is the problem?
So, repeat the above using your email instead of your phone number, and voila, you can reset your password and everything works.
In the minuscule chance that this saga works its way through T-Mobile's bureaucracy and to its developers, I offer you my humble thanks in advance for fixing this confusing hodgepodge of loops and errors.
Yours, loyally,
- A T-Mobile Customer