Customers deserve incredible care, so we're thrilled to announce that T-Mobile is at the top yet again, receiving the highest score from J.D. Power for U.S. Full-Service Wireless Customer Care – a full 41 points higher than the industry average!
Four score!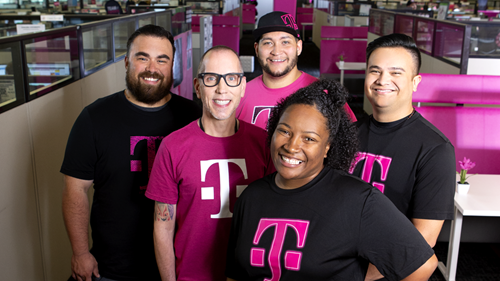 J.D. Power today announced that T-Mobile has received the highest score in the J.D. Power 2019 U.S. Wireless Customer Care Full-Service Study—Volume 2—for the fourth time in a row! And Metro by T-Mobile also ranked highly, placing second, in their respective Non-Contract Full-Service segment for Overall Customer Care. This is T-Mobile's second time delivering a record-breaking score (breaking its own record!) and marks the 18th time T-Mobile ranks highest among full-service providers. The Un-carrier has topped the rankings more than any other wireless provider in the history of the study. And that means Un-carrier customers WIN. Again…and again…and again. And again.
One year ago, T-Mobile completely reinvented customer care with the launch of Team of Experts nationwide, and it's no surprise that the Un-carrier delivers an unprecedented level of customer delight that's absolutely unmatched among Full Service wireless providers. T-Mobile Team of Experts puts customers first with a dedicated team to answer their call or message with no bots, no bouncing and no BS.
And customers love Team of Experts. T-Mobile posted all-time record-low postpaid churn of 0.78% in Q2…that means more Un-carrier customers know a good thing when they've got it and are staying with magenta.
The J.D. Power results show a clear customer affinity for the T-Mobile care experience, whether it be on the phone, in-store, via online chat or easily navigating self-serve options. And while self-service options like the T-Mobile App and MyTMobile.com make life easier, T-Mobile Team of Experts got high marks for being knowledgeable, courteous, clear in their communication and quick to resolve customer issues.
For more information about T-Mobile and the  J.D. Power 2019 U.S. Wireless Customer Care Full-Service Study -- Volume 2, read the full release in our T-Mobile Newsroom, and please visit www.jdpower.com/business/ratings/industry/telecom.
Want to meet some of the rock stars who make our Team of Experts sing?