Hey, T-Mobile Support Community! Today is National Scavenger Hunt day, and we're celebrating with a contest for Community pros ready to show off their blazing fast navigation skills and fresh users who want to rack up some points exploring. This scavenger hunt is going to take you to some of the deepest, darkest corners of the Support Community -- so it's probably a good idea to bring some sort of protection.
The contest: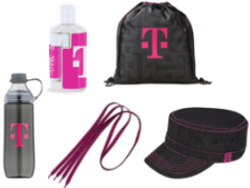 Starting today, 5/24/2018, through 6/7/2018, the hunt is on! We want Community members to take a look at the questions below and hunt for the answers! Each one can be answered using documents and threads located right here on Support or within our Support Community. The winners will be picked based on the number of correct links they identify and provide. If a tie breaker is necessary, we'll rank submissions based on the order in which they're received.
Up for grabs, we have a pretty sweet goodie bag* full of essentials for outdoor activities! If you're planning on participating in your own scavenger hunt IRL, these goodies are sure to give you the leg up on your competition.
*Goodie bag package includes: T-Mobile sunscreen, water bottle, cinch bag, scout hat, and some rad laces for your kicks.
To participate in this contest you must post a reply below letting us know that you'll be playing. Please, for the love of all that is magenta, don't post URLs in the thread! After you've commented, a Community Manager will send you a private message confirming that we've noted your initial entry. Once you've found as many of the links as you can (or all of them, you overachiever!), reply to the private message from the Community Manager with a list of the links (the web URL at the top of the page) you've found. Happy hunting, and may the search algorithms be ever in your favor!
How to play:
Reply below letting us know you'll be playing. We'll send a PM your way so you know we've seen your request!
Locate all or as many of the items listed below as you can.
Reply to the private message sent you by a Community Manager to submit your entries.
What you need to find:
Where can I find T-Mobile Support's blog about the T-Mobile Changemaker Challenge?
I feel like having a conversation that's literally just people associating words with other words. Where should I post?
Who the heck are these Community Manager folks?
Netflix on T-Mobile? Yes, please! Can you show me something that explains what that is and how to get it?
When will my multiple Android phones get the upcoming Oreo software update?
My Nokia 5320 stopped playing any sounds! I think I need to master reset it. Where are the steps to do this?
Free me from my big red carrier, I prefer Magenta! If you'll reimburse my ETF or device balance (up to $650) I will love you forever!
I'm researching a career as an armchair engineer – where can I find a list of the network frequencies and bands that T-Mobile supports?
Yo, T-Mobile, where them sweet deals at? Is there a home base where I can look at all of your offerings?
I want free stuff (always) and today happens to be a Tuesday. Is there an app for that?
Rules:
You must reply to the private message from the Community Manager with your links before 11:59:59 PM PST 6/7/2017 to qualify
Full list of official rules can be found here Support Community 2018 Scavenger Contest Rules
Best answer by tmo_chris 8 June 2018, 18:58
Hey everyone! The submissions ave been reviewed and I just want to say you all are pretty darn awesome at navigating our site. There were so many folks that got almost all of them right. We did have 2 folks that got all 10 out of 10 correct and a few 9/10 correct answers. Since there are 3 winners the two folks that got all 10 correct will be winners #1 and #2 and the first person that got 9/10 correct will be our 3rd winner.
Just so everyone knows where the correct answers were, you can check out this list.
So without further adieu, the winners of the contest are......................................................*dramatic drum roll*
#1 -​ @magenta5038723​
#2 - @redoregon​
#3 - @leigh1982​
Please keep an eye on your private messages for a message from me so I can gather your information and send you your prizes. Please be aware that you have 2 weeks from today to reply to the message I send you to claim your prizes.
View original