T-mobile,
Your claim that there is an 'excellent signal' at where I am located is false.  Your maps indicate that there is 4G LTE 'excellent signal' and that 4G LTE 700 (Mhz) is available here.  I recently got an iphone 6s and tested it here but to my disappointment, the signal strength is 'weak' at best and poor and spotty most of the time.  Something as simple as a line of text takes tens of minutes to send and at times, doesn't send at all because it times out.  Your website:  Extended Range LTE | 600 MHz & 700 MHz Spectrum Phones | T-Mobile indicates that iphone 6s does support 4G LTE 700 (Mhz), but in reality and many times, there is no data coverage at all (i.e. data coverage that doesn't work).  This phone actually did worse than my older iphone 5s which didn't do all that well either, which was the reason I looked for phones that support more 4G LTE bands and technologies.  Now, I'll probably return my iphone 6s.
I believe that such false information should NOT be released to public as it could be deemed a false advertising that leads consumers to wasted efforts, time and money.  Therefore, I have come to a conclusion that T-mobile is just not honest with what it once claimed: 'best cell network'.
I have tried 3 different T-mobile phones here and they all get very poor reception here.  I have made sure that network/cell carrier/data settings are set correctly on these phones.  Because phones are made to 'look for' the best network/signal, the phones use up a lot of battery power to do so.  This drains battery like crazy on the phones that have excellent battery performance otherwise (i.e. while connected on wifi or in areas where a good 4G LTE is available).  I've been trying to get good data coverage here for the last several years, but to no avail.  Are you planning on providing a good data coverage here?  Or, at least be honest and stop saying that 'excellent signal' is available here.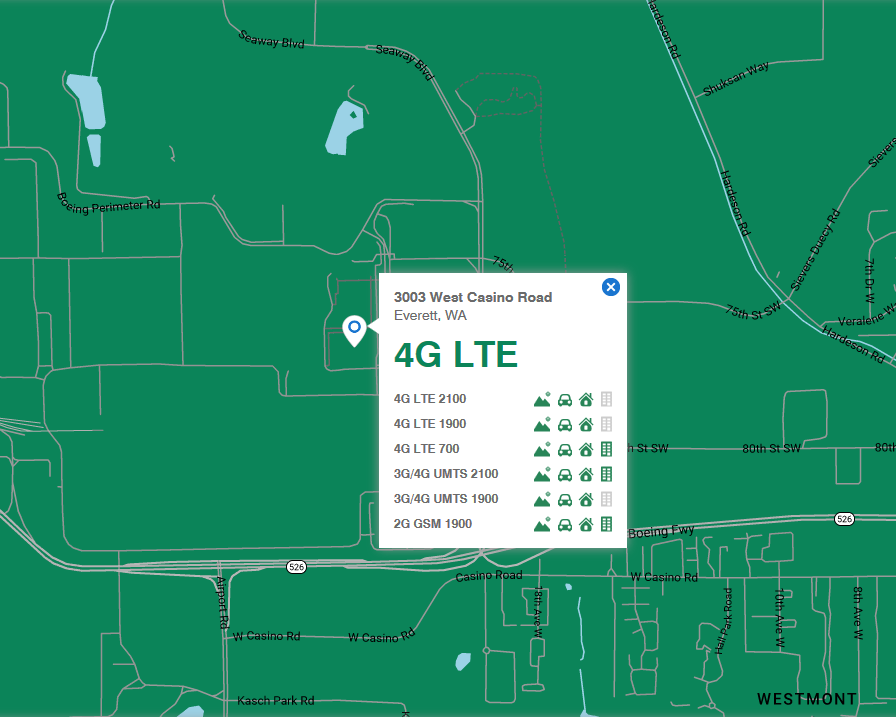 Best answer by tmo_chris 2 December 2017, 18:55
Hey there! If you are not getting coverage in an area that our map says you should be, we can definitely look into this. If you are inside an office with windows, you should be able to get some kind of signal but the windowless metal buildings could be pretty rough. If you have a moment, please contact us so our tech teams can get an engineering ticket opened up for you.
View original